Citizens Advice Scotland Manifesto
17th March 2021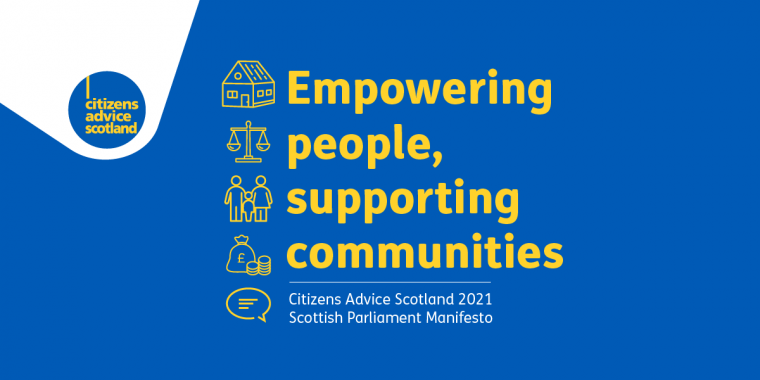 Citizens Advice Scotland has launched their manifesto "Empowering people, supporting communities" ahead of the 2021 Scottish Parliament elections.

The next Scottish Government will face the immediate challenge of our economy reopening as financial support schemes implemented during the pandemic begin to expire.
Even before the pandemic people faced insufficient incomes and rising living costs. Analysis of complex debt clients helped by the charity over the course of the pandemic reveals 2 in 5 people (44 per cent) don't have enough income to cover all of their essential living expenses each month.
It's vital that the next Scottish Government addresses these issues with the urgency it needs. That's why we want to see changes like:
- Writing off housing and council tax debts built up during the pandemic
- Reviewing fuel poverty support schemes so they are better targeted
- Reforming legal aid
We absolutely welcomed the various support measures put in place by government during the pandemic but with these set to come to an end shortly many people face a cliff edge in their personal finances.
It really is vital that the next government, whoever they may be, takes fast and practical action to support citizens and to work to deliver positive change for the community we all want to see thrive.
The full document can be downloaded below