4th March 2022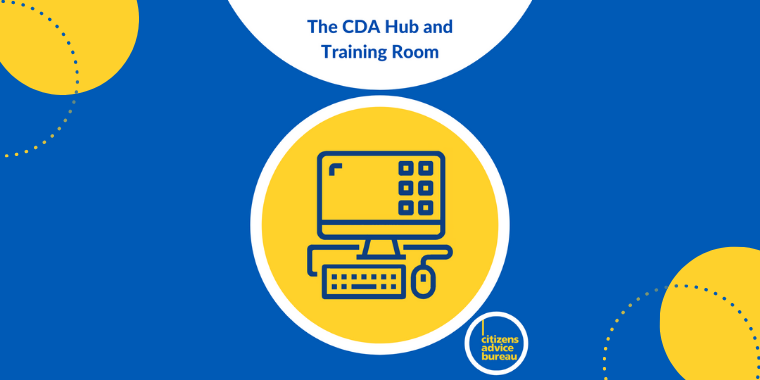 Funding of Community Digital Hub:
The Rotary Club of Nairn (RCN) to mark the 75th anniversary of the Club determined to identify and undertake a community project(s) which would create a legacy for the Nairn community. The guiding principle for any such project was that it should impact positively on people's lives not only during these current difficult times but also long into the future.
RCN agreed to sponsor a dedicated room in the new offices of Nairn CAB which is scheduled to open in July 2022. This room would be utilised as a Community Digital Access (CDA) Hub and Training Room aimed at providing specialist support to members of the public who currently have limited or no access to the digital world. Such restrictions means that many in the community are struggling to cope with the increasing demand for internet access to process benefit claims and are excluded from social interaction with family and friends. Many also do not have the necessary skills to access the internet in a safe secure environment and are thus disadvantaged in living their daily lives in comparison with others.
The delivery of a CDA Hub and Training Room will provide a unique service to the community and enable Nairn CAB to significantly increase its capacity to assist people in need and to tackle the current inequality that prevails. The RCN and Nairn CAB took part in the Kilt Walk and raised £13,000 towards the cost of fitting out this room in our new building. Funding from the Adams Foundation and other small sums have increased this to £15k.
-----------------------------------------------------------------------------------------------------
Introduction:
Access to the internet affects people's lives in a diverse number of ways and these difficult times, due to Covid and the associated lockdown, has required all of us to utilise IT more than ever before. Internet access impacts upon people's ability to access benefits, apply for jobs and take advantage of cheaper deals on everything from energy to insurance where being online can deliver significant savings for consumers.
Nairn CAB's move to new premises in 2022 presents a major opportunity to enhance the level of services offered through the establishment of a CDA Hub and Training Room
As always, the guiding principles underpinning the introduction of this service will ensure alignment with Scottish National Outcomes namely:
We live in communities that are inclusive, empowered, resilient and safe.
We tackle poverty by sharing opportunities, wealth and power more equally.
We are well educated, skilled and able to contribute to society.
We respect, protect and fulfil human rights and live free from discrimination.
Services to be Offered:
The CDA Hub and Training Room will be aimed at delivering the following services with resultant benefits for many within the Nairn community:
The CDA Hub will enable clients to have supported internet access for making online benefit claims as well as supporting them in their ongoing management of their claims. For example, Universal Credit (UC) claims are made online and then all communication is via the client's online account. This requires regular and frequent internet access, while uploading forms onto the site etc. and is challenging if the only device available is a smart phone and clearly impossible if the applicant does not have one. Scottish Welfare Fund applications for Community Care Grants as well as applications for other charitable support (EG. Vicars' Relief Fund) also need to be made online. Recent help in the form of Fuel poverty and Low income grants to clients have required online applications - the CDA Hub will have a valuable role to play in clients accessing these grants.
As we currently do, advisers will be able to support their clients with internet access in the Hub but there will be a stand-alone server which means clients are not accessing computers through the server which hosts CAStle and all our other functions.
We will advertise specific sessions, which will require to be pre-booked, for members of the public to come into the hub and have supported access – initially an hour twice a week – to undertake activities such as checking their UC journal, making CCG applications, price comparisons for energy tariffs, insurance, broadband, mob phone contracts etc. All good income maximisation activities.
There will be 7 computers for client use, 1 for the supervisor of the session, a telephone for CABx use only (as now), printer.
There are no plans for any uncontrolled access by members of the public. We are not replicating what is already available at the library
Enhancing Education and Learning:
The Hub will be available for CAB training sessions and meetings and will be fitted out with modern technology to maximise learning opportunities for those able to access the room and those learning remotely.
Information and awareness raising sessions around Self-Directed Support (SDS) and other topics will be delivered for those individuals/families and carers of those in need of support, so they are more aware of their options and able to exercise them. Information around funding availability and financial assessments will be provided to people when facing the transition from home to supported living/care/nursing home. This could be provided by in house experts and the NHS SDS team amongst others.
Public Events and mini training sessions will be undertaken in partnership with a range of third parties (EG. NHS, Highland Council, Private Care Providers, Age Scotland, Solicitors and Undertakers) to showcase options to clients so that people feel more empowered to prepare and plan for their future. For example, the advantages of making Power of Attorney/Wills will be promoted. In this regard when people have made Power of Attorney it is easier for them to be moved from hospital beds to places which are more suitable to their needs should they be deemed to have lost capacity. This will reduce the number of Delayed Discharges and free up beds in hospitals. Currently patients can be kept in hospital for 6 months plus on Delayed Discharge while Guardianship is sought by the NHS.
Advice and information using Attend Anywhere/Near Me (NHS video conference system) will be given to clients unable to access the bureau. They will be able to join training and information sessions remotely too.
Longer term, financial education sessions will be undertaken for parents/carers targeting early years, through partnership with local primary schools and nurseries.
In partnership with the following agencies training programmes and advice sessions can be delivered utilising the training room's facilities:
Forres and Nairn Credit Union
Poppy Scotland (five-day employability course for veterans who currently need to travel to Inverness).
Civil Legal Assistance operated through Scottish Legal Aid Board will be able to have appts with clients who cannot travel to Inverness
ListenWell Scotland
Other Services/Benefits:
Hosting of "tea parties" for specific groups, such as those who are visually impaired, as part of awareness raising of social policy issues such as Scams Aware and how to avoid Doorstep Crime (in partnership with Police Scotland).
Outside CAB normal opening hours, there will be a self-contained space (incl. digital access hub) with accessible toilet and beverage point, available for community use. In this regard CAB have already been approached by community groups who are interested in utilising this space such as Mindful Forces (a mindfulness organisation who specialises in mindfulness for armed forces, veterans, police and other uniformed services).
The CAD Hub will create new volunteer posts to provide specialist support to members of the public who require supported computer/internet access. Additionally, those volunteering will have the opportunity to gain valuable experience and skills, as well as recognized qualifications to help improve their employability if they so wish.