10th November 2020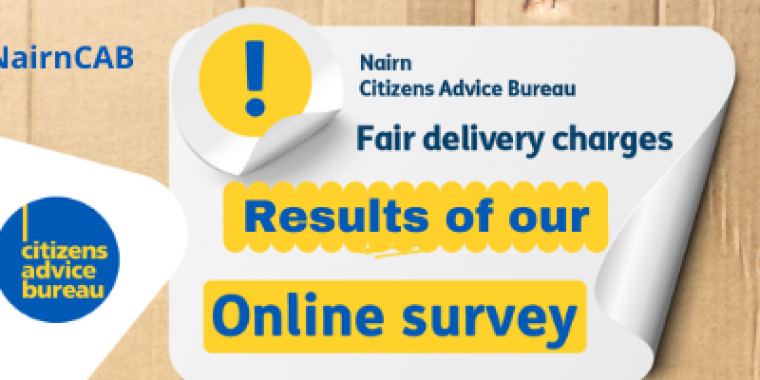 Thank you to everyone who completed our survey on fair delivery charges. The survey covered the Nairn Citizens Advice Bureau area and included both small town and rural residents.
95 % of replies related to household deliveries, with 2% about business deliveries and 3% about home business deliveries. 75% of replies indicated they were within a 30-minute drive to the nearest medium to large town or city.
Only 6% said they were not affected by surcharging with the rest being affected either regularly 56% or a few times a year 37%.
87% of replies had been refused delivery because of their location either regularly or a few times a year and said that delivery refusal had been the decision of the retailer 75% or parcel company 3%.
When asked why they thought they had been affected by surcharging, 84% replied that their postcode didn't give an accurate idea of where they lived and retailers/parcel companies charge unfair prices 53%, whilst others thought it was because they live in a rural area 25% and that parcel delivery companies outsource deliveries to my area to a third party 27%.
It was pointed out that a company in the Scottish Borders would charge standard deliver to Cornwall but not to Nairn and another commented that white goods could have been delivered within a shorter time period and free of charge if they didn't live within an IV postcode area. It was also noted that a company from Durham would deliver a flat pack item to Perth for free yet wanted to charge £300 for delivery to Nairn.
Because of surcharging and non-delivery issues the respondents had experienced, 95% said they had abandoned purchases, 68% they preferred to shop around, 69% had gone without goods, 54% bought in a shop rather than online and 67% paid more for goods than they otherwise would have.
It was commented that, "If I have spent time researching best value for an item I want, and then go through the payment process, only to then find there is a surcharge on delivery because of my postcode, I sometimes continue with the purchase because I've already invested so much time in the searching. I sort of feel pressured into completing the purchase." Whilst another said, "I get angry when a site doesn't make delivery charges and surcharges clear at the start. Or worse is when a company refuses to deliver to an IV postcode."
It was also made aware that National retailer (Argos) has more limited delivery options in IV postcodes than other parts of the UK and will direct consumers to "click and collect" only.
Whilst others found that when shopping online, the delivery charge can be almost double the price of the item being bought. This is often the case on some of Amazon's 3rd party/market place sellers.
When asked about possible solutions to surcharging/non-delivery, 60% agreed with increasing Pick-up Drop-off (PUDO) points, secure lockers in remote communities where drivers can deposit and consumers pick up could be helpful whilst 33% agreed customers in other parts of the UK could pay more delivery to offset higher costs in affected areas.
Other suggestions included using Royal Mail more often – they charge the same for the whole of the UK, and posting items rather than other carriers.